About VAS – TV & Projector Repair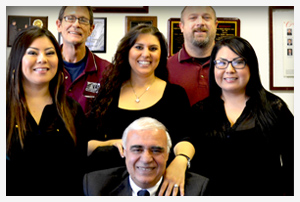 Reza founded Video Audio Specialists Inc. in the summer of 1978. He was a student at UNLV and started the company as a side job. Over the past 3 decades he has grown the organization as the largest authorized service center in Nevada.
His Daughter Bita started working as a summer job in the 90's, she fell in love with the business and slowly started to take over. Bita currently manages the day to day operation.
We love to help people with their electronic problems, we are the professional problem solvers. We guarantee your satisfaction! We are committed to delivering the best experiences and services to our customers.
We are proud of our greatest achievements being a authorized with all manufactures such as: HITACHI, JVC, LG, MITSUBISHI, NEC, PANASONIC, PHILIPS, SONY, SAMSUNG, SHARP, TOSHIBA, AND ZENITH. We also service other brands such as Planar, Vizio, Runco, and Christie just to name a few.
Providing quality service to local hotels including Wynn, Stations, MGM and more.
Video Audio Specialists – 11 Points of Culture
Integrity: I take pride in what I do. I always speak the truth. What I promise is what I deliver.
Customer Satisfaction: I always offer service with a smile. I do whatever it takes to make sure my customer has the best experience with myself and my organization. I go above and beyond to make sure my customers are WOWed!!!!!
Team Work: I am a team player; I work alongside my team so together we can accomplish our common goals. I do whatever it takes to get it done; I will embrace it with grace. I ask for help when I need it and my attitude going in will be "JUST DO IT"
Excellence: Good enough isn't. I always deliver services of exceptional quality.
Commitment: I give myself and everything I commit to 100% until I succeed. I am committed to my team and my customers and I l embrace every moment.
Care: I care about what I do and how I do it. I show how much I care with my results.
Ownership: I am truly responsible for my actions and outcomes and own everything that takes place in my work. I am accountable for my results and responsible to complete what I need to.
Communication: I speak positively, courteously, and respectfully to my fellow team members and customers. It's not what I say, it is the way it say it, which will be in a positive way. I will use the words, "yes I can" with a smile.
Recognition: I will take it upon myself to give my fellow team members positive feedback everyday to brighten their day.
Fun: It's not all work, I will have a little bit of play along the way. I will enjoy my time by creating a fun atmosphere full of laughter and happiness so all around me will enjoy it as well.
Consistency

: I am consistent in all of my actions towards my team members and my customers.